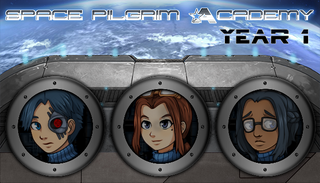 Space Pilgrim Academy: Year 1 is the first game in the Academy series, and the fifth game in the Space Pilgrim saga. It was released on 6th Oct, 2017.
Synopsis
Edit
Latona Research Station has been destroyed by unknown assailants. The only survivor is a young girl who was rescued by the Starship Quicksilver and her renowned captain.
Characters
Edit
Galactic Union
Edit
Polus Station
Edit
Locations
Edit
Act One: "The Stray" Edit
Latona Research Station has been attacked by unknown assailants. A young girl named Margaret Dale (or "Maggie") takes refuge in a cargo bay, where she is discovered and rescued by Gail Pilgrim and "The Colonel". They take the girl back to Starship Quicksilver before the station explodes. There appear to be no other survivors.
After learning that Maggie's mother had been on the station, Gail decides to bring the child back to Planet Abassi and enroll her in the Pilgrim Space Academy, of which she is the chancellor. Despite some initial awkwardness and hazing, Maggie quickly ingratiates herself with a number of her fellow cadets at the academy - chiefly Diane Romero, May Martinez, Kenrick Morse, Jaime Bishop and Travers Bishop.
Soon after Maggie's arrival, the academy is the target of a terrorist bombing at a reception for President Leila Barret of the Galactic Union. Gail is briefly admitted to hospital for minor injuries.
Act Two: "Triarch" Edit
Gail's old comrade Sabina White unexpectedly arrives on Planet Abassi, and reveals to her that she was part of a research project connected to Latona Station (Project Triarch). Together they set out for Sabina's current place of work, Polus Station, but on their arrival they find that it has already been attacked and its entire crew have been slaughtered. By diffusing a bomb, they are at least able to prevent the destruction of the station and salvage some research materials.
Meanwhile, Maggie follows Diane Romero out of the dormitories one night to discover that she and Kenrick Morse have secretly been building a robot named Norbert. Upon returning to the dormitories, they find the building is on fire and May Martinez is trapped inside. Professor Brian Lenke and Sergey Antov rush into the burning building to rescue her.
Act Three: "Fractus" Edit
May Martinez recovers at Aegina Hospital, but seems to have been severely traumatised by her experience. Back at the academy, Maggie overhears a suspicious conversation between two of her teachers, Professor Brian Lenke and Professor Eileen Dietrich. She begins to suspect that one of the faculty members is not who they appear to be.
Gail returns to Abassi and invites Maggie to stay at her personal residence. She then heads into Aegina City and learns from her contact Masaki Abe the name of the terrorist group responsible for the recent attacks: Fractus. Like Maggie, she also begins to suspect that a member of academy's faculty might be involved.
After gathering them all together in the gymnasium, she exposes former cadet Kathy Brown as the traitor. At that moment, Kathy's comrades from Fractus burst in and take the entire faculty hostage. Fortunately, they are rescued by the ingenuity of Maggie and her new friend Diane Romero, who use the robot Norbert to neutralise the hostiles. Professor Lenke then disarms Kathy Brown, revealing in the process that he is actually the android known as Emet.
Kathy Brown is placed under arrest by the Space Wardens, and shortly afterwards Gail becomes Maggie's official legal guardian.
Walkthrough
Edit
https://steamcommunity.com/sharedfiles/filedetails/?id=1248115725
Community content is available under
CC-BY-SA
unless otherwise noted.